Hello Friday! The little ladies and I are flying solo this weekend. Griff is on his annual "Man Trip" with some of his best buddies. He went to the store the night before he left to stock up on some supplies. He came home with stuff like beef jerkey and bullets. Lord, have mercy.
ONE.
Have you guys ever heard of a "John Wayne Casserole?" Is this actually a thing? I found the recipe on my mom's Pinterest board, so I'm going to make it tomorrow and take it over to Mom and Dad's for dinner. Excited to see how it turns out. Check out the recipe (from Six Sisters' Stuff)
here
!
TWO.
I ordered these pens from Amazon the other day. I saw that Andrea from
Momfessionals
raves about them, and I'm kind of a sucker for pens, so I decided to try them out. I love them so much! Griff made fun of me for being so excited about pens. Until he tried one. He literally wrote two words with one of them and said, "I need a set." Apparently he is going to use them to "Audit stuff." Clearly, they are highly recommended by this family. You can find them
here
.
THREE. I got a little carried away yesterday. There may have been some obsessive template making. I am wanting to add some picture frames to a wall in my dining room, but I'm not sure of the exact layout I want. I spent an embarrassing amount of time online shopping for frames, going back and forth to my dining room wall, measuring tape in hand. I'm a visual person, and I can usually just imagine how something will look, and I could imagine all of these scenarios. The problem was, I couldn't imagine which one I liked best. Commence obsessive measuring, cutting, and taping. Is this normal? This can't be normal. Here are the options I came up with.
Option 1
Option 2
Option 3
Option 4 - use your imagination to complete the 3x3 grid. The template making was getting out of control.
Options 1 and 2 would be hung like this, with the knobs:
via Houzz.com
I think I've narrowed it down to option 2 and 4, but I would love to hear your thoughts!
FOUR. Can we talk about Little Debbie Donut Sticks for two seconds? I have no idea why I brought these into my home. I thought the girls would like them, and that they wouldn't linger around too long to tempt me. Well, neither child likes them (what is wrong with them??), but guess who has been eating one a day for the past week? Yep, this girl in the elastic waist pants. Ugh.
FIVE.
I could not be any happier with our decision to wait another year for Kindergarten (see that post
here
.) Izzy is LOVING school this year. She comes home singing new songs every day...songs about the five senses, directions (right, left, etc.), even her street address. She finally wants to sit down with me and draw shapes, practice her letters, cut and paste, etc. This. Is. Huge. I love that learning has become fun for her. She's been at her new school for 3 weeks, and I can already see huge growth. And, more importantly, she is excited to go to school every day! Such a blessing.
Linking up with Andrea again this week, and also with September FARM. Cheer's to the weekend, friends!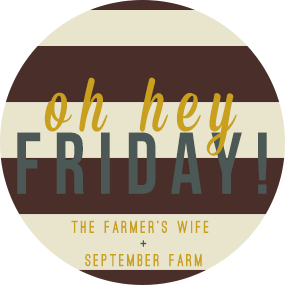 >