For the past several years, my family has made it a little tradition to get together and have a Christmas baking day. We all look forward to it, and it's a great way for me to come home with lots of goodies to package up and give to my neighbors. Here's what I'll be making this year.
1. Rolled Sugar Cookies - You really can't go wrong with these. I mean who doesn't like sugar cookies. I found
this recipe
a few years ago and have made them several times. They always turn out great. Now, the frosting is a different story. I haven't quite mastered the royal icing yet. The last time I made them, I used the recipe on the back of the meringue powder, and they were fine, but if anyone has a fail-proof recipe, send it my way.
These are the cookies I made for Izzy's birthday party last year. Don't judge my frosting skills.


2. I attended my first Cookie Exchange party this year, and I made White Chocolate Macadamia Cranberry Dreams. They were quite tasty, so I think I'm going to make some more. Click
here
for the recipe.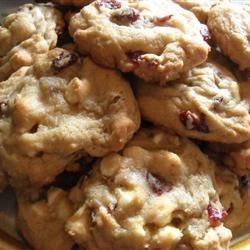 photo from allrecipes.com


3. One of our standard Christmas cookies is the peanut butter sandwich made with Ritz crackers, dipped in Chocolate candy coating. I found this cute little spin on the basic recipe on Pinterest, so I'm going to give it a try. This is actually a dipped Oreo, so I may try some of each. Adorable, right?
4. I know you've seen these all over Pinterest, but they are super cute and look easy enough, so I'm going to give them a try.
I'm thinking that should keep me busy enough. I will report back on these new Pinterest finds.