Confession: I don't do a lot of Holiday cooking. I'm pretty spoiled in that I can get away with showing up on Christmas Eve with a few 2 liters of Diet Coke. I usually bring something sweet or some sort of an appetizer. Last year, I made the famous Sopapilla Cheesecake (see recipe
here
), and a few years prior to that I made the ol' cream cheese block with raspberry chipotle sauce a staple in our spread. I go all out, I tell ya.
Not sure what I'll be making this year, but these recipes are serious contenders:
1. Bacon and Cheese Pinwheels - Bacon, good. Cheese, good. Easy, yes. This one gets a gold star. Recipe
here
.
photo from pinterest
2. Spicy Sausage Dip - I actually made a variation of this recipe a few years ago, and it was tasty. Recipe
here
.
photo from annies-eats.com


3. Easy Parmesan Knots - No words. Just drool... Recipe
here
.
photo from realmomkitchen.com
And I'm thinking about starting a little Christmas tradition at out little casa this year. I'm going to....wait for it....make breakfast. Yeah, I said it. I actually love breakfast food, but unfortunately, I'm not a morning person. At all. So, it's not often that we eat a nice warm breakfast around here. It's usually instant oatmeal, cold cereal, toast, etc. I like making breakfast for dinner, but hubs isn't a fan, so I guess I'll do what the rest of the world does this year and make breakfast for breakfast. I'm thinking this Sticky Bun Breakfast Ring is a must. Oh. My. Word. Recipe
here
.
photo from pinterest


And of course, the title of this recipe makes it a no-brainer. Maybe I'll give the Christmas Breakfast Sausage Casserole a try, too. Recipe
here
.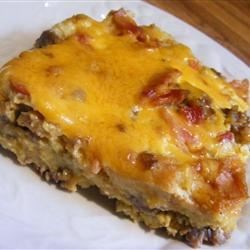 photo from allrecipes.com
I already feel sorry for my clothes. They are going to be pushed to their full-capacity limit very soon. There's always January, right??